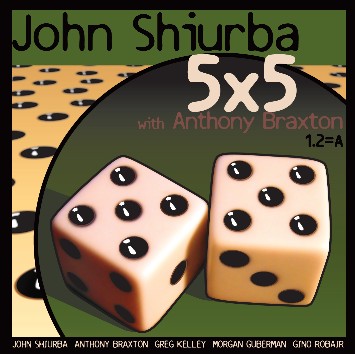 John Shiurba
5x5 with Anthony Braxton
1.2=A
John Shiurba - guitar
Anthony Braxton - Eb and F alto and Eb sopranino saxophones
Morgan Guberman - contrabass
Greg Kelley - trumpet
Gino Robair - percussion
Recorded 12/10/03 at Guerrilla Recording, Oakland, CA, by Myles Boisen. Mastered at Headless Buddha by Myles Boisen.
This CD is a co-release with UN-Limited Sedition, the permanent-collection wing of Limited Sedition. The ULS releases will feature music that is written ahead of time (at least in part), as opposed to being entirely improvised. We feel that this music should be documented differently, so these releases will not be numbered limited editions, nor will they be pressed as CDRs.
5x5 1.2=A is the second of five sets in the first of five groups of five short pieces written for five players to be used as interjections within a continuous improvisation. The A is for Anthony.
Visit UN lIMItEd SEdItION for further information.
Song list
1. intro (6:29)
2. 1.2.1 (6:26)
3. 1.2.2 (14:22)
4. 1.2.3 (16:48)
5. 1.2.4 (8:31)
6. 1.2.5 (2:20)