NOW AVAILABLE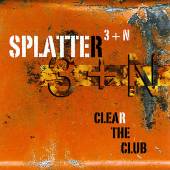 Splatter 3+N Clear The Club
The Splatter Trio: Dave Barrett, Myles Boisen, Gino Robair with Michaelle Goerlitz, Len Paterson, Dave Slusser, Sheldon Brown, J.A. Deane, Chris Grady, Mark Growden, Jake Rivera, John Shiurba, and Ellie Schoenwetter.
Clear the Club began as a series of studio-based jams by Splatter 3+3, which added Michaelle Goerlitz, Len Paterson, and Dave Slusser to the Splatter Trio. Later, a number of friends were invited to do overdubs, and snippets of live and studio recordings were added.
Produced by the Splatter Trio. Basic tracks engineered by Joshua Heller. Mixing and additional engineering by Myles Boisen and Gino Robair at Guerrilla Recording and Solitary Confinement. Mastered by Myles Boisen at the Headless Buddha Mastering Lab, Oakland, CA. Thanks to everyone involved over the years, including Tom Djll, and the alarmed audience of Venue 9. Photo by Sheila Balter.
Synthspotter: Buchla Electric Music Box on track 2; analog organ on track 3; Maestro theremin on track 4; Oberheim OB-8 on tracks 3 and 14: Moog Sonic Six on track 5; Analogue Systems and Blacet synth modules on track 15.

Copyright © 2005 Rastascan Records. All rights reserved. Updated June 28, 2008