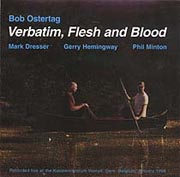 Bob Ostertag: Verbatim: Flesh and Blood
OUT OF PRINT
Mark Dresser: contrabass
Gerry Hemingway: percussion
Phil Minton:voice
Bob Ostertag: sampling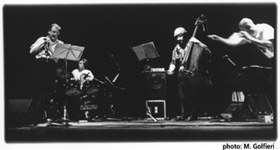 Part 4 in the Say No More series, Flesh and Blood is derived from Ostertag's human /virtual collaboration with three master improvisors. First, the players recorded solos, which Ostertag assembled into a work called Say No More. Next, the group learned this "virtual trio" music and played it live (Say No More In Person). Then Verbatim (BRD 029) was assembled on computer from fragments of live performances of Say No More in Person. Finally, the group learned the third-generation work and performed it live at the Kunstencentrum Vooruit, Gent, Belgium in January 1998. Design by Heide Foley. This is a co-release with SeeLand.
Track Listing:
1. Periwinkle (10:20)
2. Oxblood (2:17)
3. Smoke (7:33)
4. Ink (9:06)
5. Cornflower (3:32)
6. Paris Green (2:28)
7. Middle Stone (3:50)
8. Lavender (2:30)
9. Ash (3:21)
Reissues of these and other Bob Ostertag recordings are available here.