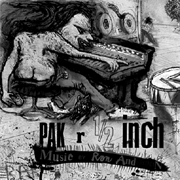 RON ANDERSON: Pak Small r Half Inch
Ron Anderson: guitars, bass, keyboards, vocals, electronics, cornet, perc., drums
Dave Barrett: alto sax, saxcello
Michael Gendreau: saw blades, bowed metal, strange noises
99 Hooker: tenor sax
La Brea Tar Pits Head: drums
Homo Phlegm: vocals
Dan Plonsey: baritone, tenor, alto, soprano saxes
Gino Robair: drums
Thomas Scandura: drums
Dave Slusser: alto & tenor saxes
Glenn Sorvisto: drums
Jason Willet: drums
William Winant: drums
Assembled in his windowless, bunker-like studio in Oakland, California, Anderson put together this intense stew of sounds that one enthusiast described as "a '90's version of Zappa's Uncle Meat with a pinch of Japanese noise". Anderson recorded hours of rhythm track duos with a variety of drummers, interspliced them (so that a piece would jump between different drummers), and overdubbed a variety of instruments on top. Later, he cut these up and repeated the process many more times. Clocking in at under 40 minutes, Pack Small r Half Inch is a full sonic meal packed with complex metallic riffing, collage-like plunderphonic scramblings, and wild unison horn lines.
Ron Anderson is the guitarist / vocalist for The Molecules and former member of New York's influential noise band Rat-At-Rat-R. In addition, Ron has played and / or recorded with Tatsuya Yoshida (Ruins), Elliott Sharp, Shelley Hirsch, Marc Ribot and WOO and is in the improv trio Happy New Year.
CD design by Jakub Kalousek.
"Spasmodic, willfully weird out-rock that recalls the Residents, Beefheart, Zappa, Frith and Zorn, driven by Anderson's gutteral scrapes, gutbucket funkadelia and giant insect lead attack." --Guitar Player
"...a salute to the brash and obnoxious. In other words, punk -- minus the bar chord fixation." --SF Weekly
"This is not for the faint of heart, but brave ears will be generously rewarded." --John Shiurba, Bay Guardian