CLUB FOOT ORCHESTRA: Wild Beasts, Kidnapped and more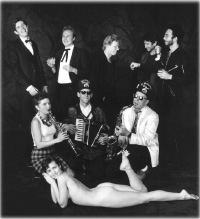 A reissue of the two albums Club Foot Orchestra made for Ralph Records in the late '80s, Wild Beasts features the legendary Snakefinger on guitar, as well as keyboardist Eric Drew Feldman (ex-Beefheart / Pere Ubu / Pixies). Kidnapped moves into a darker mood with Richard Mariott's brooding and exotic writing. Two rare bonus tracks feature the earliest Club Foot Orchestra configuration that included Bruce Ackley of ROVA and Matt Heckert, ex-Survival Research Labs (SRL).
"Perfect for the swank occaision or the twenty-hour drive, this is egalitarian neo-populist swing for the next millenium." --Wired
"...this group can sound like a collection of musical Shriners engaged in some fear and loathing with Hunter S. Thompson - Wild Beasts indeed." --Jazziz
Click here for more information about the Club Foot Orchestra.