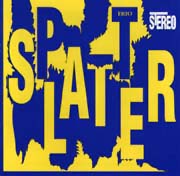 THE SPLATTER TRIO: Splatter Trio
Dave Barrett: saxophones, other winds, black eye
Myles Boisen: Doubleneck electric guitar/bass, Casio
Gino Robair: drums, marimba
Track Listing
1. If Then (Robair)
2. Crumple (Boisen)
3. Progress (Robair)
4. Angry Instances
5. Splatter Waltz (Robair)
6. 'Music for Mingus (Boisen)
7. Garden (Boisen)
8. Peck 'n' Paw
9. Sunda (Robair)
10. Python (Barrett)
11. Burnt Norton
12. '66 Station Wagon Theme (Boisen)
13. Cigarettes (Barrett)
14. Jesus DeSade
15. Islam In Berdoo (Barrett)
16. Above Paradise
17. Outdiana (Barrett)
18. Shit Hits the Fan (Robair)
19. KPFA Theme (Robair)
20. Sheesh (Monk's Dilemma) (Barrett)
21. Dissolve/I Found My Thrill (for Miki) (Boisen)
22. Sludge Hiatus (Boisen)
23. If Then (Brief Reprise) (Robair)
Total Time: 67'51"
"This is West Coast avant-garde - a little world music, some free improv, even a bit of rock and roll...it reminds one a lot of that downtown NYC thing, but with more coherence." --Option Magazine
"There are tracks which are hard and fast, short and sour, and some gear stripping changes of pace and direction..." --The Wire
Recorded direct to DAT, August 30 and 31, 1989, at Differenty Fur Studios, San Francisco; Howard Johnston: engineer. Photos by Ed Rachles.
"When the musicians play together each goes his own way, but they meet from time to time." Cambodian saying

Copyright © 1998 Rastascan Records. All rights reserved.